We believe in preparing your child for the future. We want to develop your child in the 6-aspects of child development, S-I-M-P-L-E which forms our core values. These are needed for them to cope with the harsh society of working life and managing their own future. We want your child to be creators, pioneers, successful young adults, mentally and emotionally capable of dealing with all sorts of difficult situations. Life is not a bed of roses, only with the right frame of mindset and right attitude will every child stay positive in all circumstances.
We will expose your child to every aspects of the child developments criteria as regular as we can to build their character and bring the best out of every child academically, socially, physically, emotionally, intellectually. The environment we have is cosy and intimate where the children received dedicated care and coaching from our dedicated teachers. We believe in guiding your child and meriting them in areas that they have done well. We have stringent requirements on engaging any teachers to manage the class.
We offer student care services where parents can be reassured that all their school homework are completed duly. They will benefit from the coaching that our teachers will provide when they face any difficulties on their homework.
We also offer additional tuition and other enrichment programs for children from age 7 to 14 years old. Your child's future is in your hands!
1. SOCIAL DEVELOPMENT
Social Development refers to "students' acquisition of skills to recognise and manage emotions, develop care and concern for others, make responsible decisions, establish positive relationships, and handle challenging situations effectively." The education framework seeks to develop the Social-Emotional domain, which comprises of self-awareness, social awareness, self management, relationship management and responsible decision making.
2. INTELLECTUAL DEVELOPMENT
The ability to manage personal finances skillfully is important to avoid careless spending and investment. Good financial habits should be acquired at a very young age and we have designed fun and exciting programmes to teach wholesale, spending and savings.
3. MORAL DEVELOPMENT
The development of the mind is a high priority because the formats of assessment within the education system are demanding. It is important and mandatory for a child to be prepared and well-conditioned for the rigours of school including the taking of exams, because that is what they are likely to spend doing for a big part of their youth. Developing of the mind also involves inculcating the right values and belief systems. Many values have to be taught, and together we want to ensure the children receive information well because there is also emotional and psychological support for them.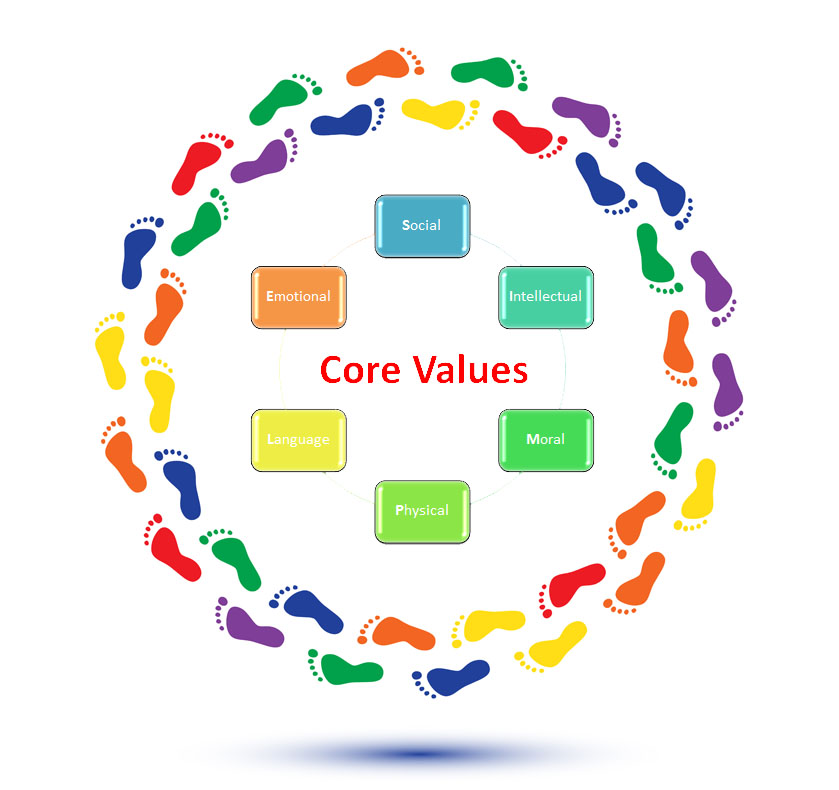 4. PHYSICAL DEVELOPMENT
In Sparklekidz, we serve quality and nutritious meals to ensure the child takes in important nutrients. We teach them to develop healthy eating habits, ways to exercise and keep fit and help them enjoy it. When they have a healthier body, they not only grow up healthier and can better face and overcome the challenges that comes from school work and life.
5. LANGUAGE DEVELOPMENT
We believe language development are crucial in children development. Your children must be at the appropriate stage of various creative, symbolic, word or and global development. It is with right stage they will apprehend various subjects with interest e.g. arithmetic, reading, spelling , writing, geography etc.
6. EMOTIONAL DEVELOPMENT – EQ
Child Learning is extremely effective when the child is positive, motivated, eager & inspired. Under the affective domain, we seek to develop the child through games, support, counseling and character building.
Our Vision
To enhance the growth of the children of today – being a well rounder as best as they can be.
Our Mission
To provide an environment in opening opportunities for growth and discovery of their potential to excel.