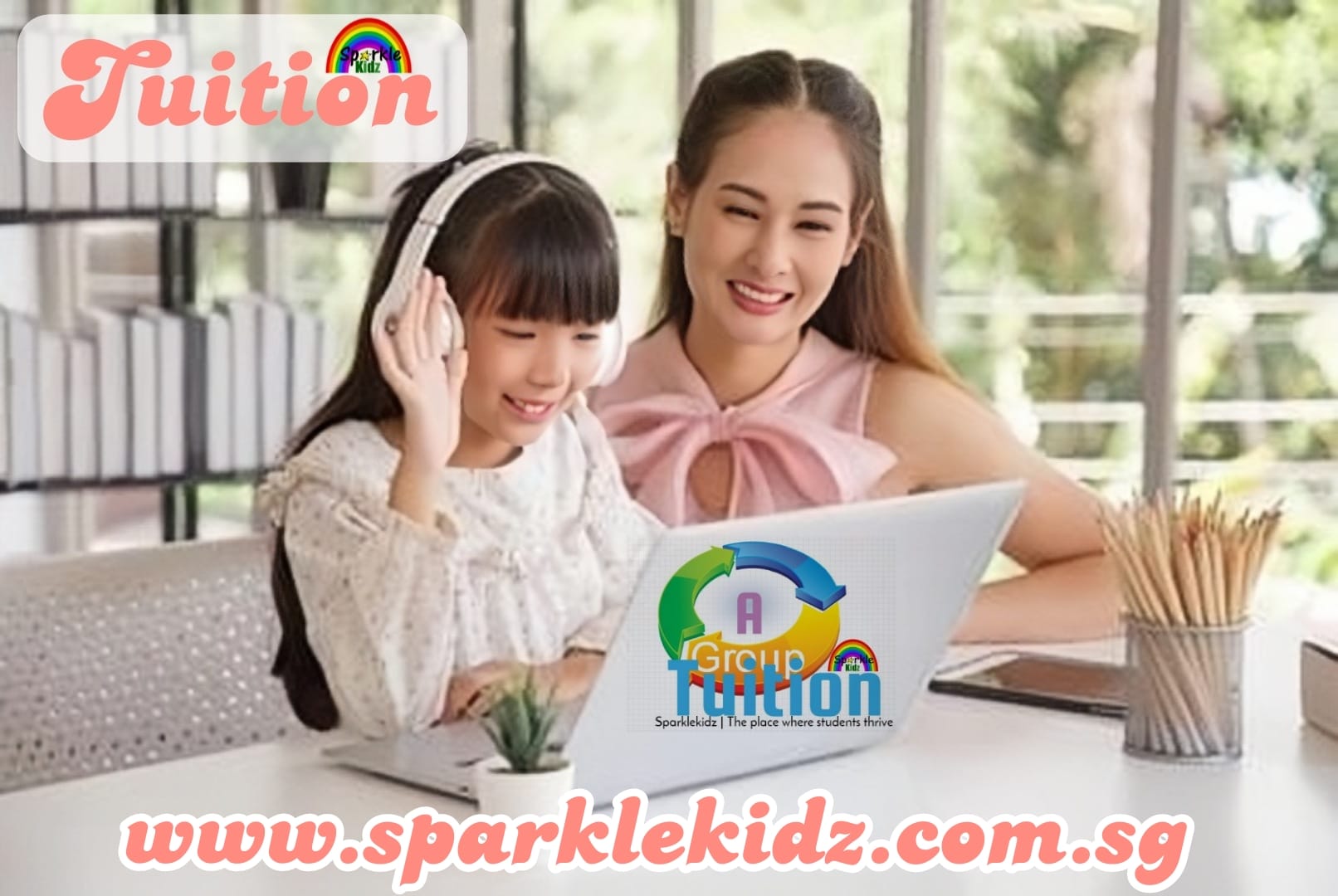 Achieve Your Academic Goals with Our Professional Tuition

Why Choose Sparklekidz Tuition?
If you're a parent exploring tuition options, you know how daunting the choices can be. It's easy to feel adrift in an ocean of educational possibilities. That's precisely why Sparklekidz Tuition stands out as a beacon of excellence. At Sparklekidz, we take a dual approach that combines personalized learning plans with a rigorous academic curriculum. Our centre is a place where dreams aren't just encouraged; they're actively cultivated.
Personalized Learning Plans
Sparklekidz Tuition stands out for its strong focus on individualized education. Each student's unique strengths, weaknesses, and learning styles are recognized. Personalized Learning Plans are carefully designed to cater to each child's specific needs. A range of teaching methods, including interactive discussions and hands-on activities, are used by our tutors. This ensures effective and engaging learning experiences. Sparklekidz Tuition is not just a tuition centre; it's a community dedicated to fostering the next generation of thinkers, leaders, and innovators.
Passionate Tutors
Years of educational experience and specialized subject training equip them with a rich knowledge base. Their standout quality is an unyielding passion for education. Innovative teaching techniques and real-world applications are part of their teaching arsenal. Complex mathematical formulas or intricate literary themes are simplified to ignite curiosity and encourage a love for learning. Sparklekidz is the choice for tutors who excel in their field and transform education into an enriching experience.
Chinese Tuition: Bridging Cultures and Expanding Horizons
Our Chinese tuition program goes beyond mere language instruction; it immerses students in the rich tapestry of Chinese culture. Dive deep into the language, embrace the traditions, and unlock a world of endless possibilities.
Centre Tuition Testimonials
"In just half a year at Sparklekidz, the progress my daughter has made is truly astounding. "
— Ms. C Tan
"The educators at this tuition center are exceptional. They have a knack for simplifying complicated topics, making them easily digestible."
— Ms. J Lee
Embark on a Journey to Unparalleled Academic Success
Isn't it time your child unlocked their full academic potential? Reach out to us today and discover how our top-notch tuition services can catapult your child into a realm of academic excellence they never thought possible. Don't just give them an edge—give them an entire arsenal of educational tools designed for success!
Primary 1 & 2 Foundational English
We aim to capture their excitement through a variety of teaching methods, using colours, pictures, and words. Students will be enthused by:
Worksheets with contents they can relate to in their daily lives
Opportunities to hone their communication skills in the classroom
Step-by-step guidance and explanation provided by teachers to help students understand better
Short stories which pique their interest and help them appreciate the written language
Monthly tests
Targeted revision exercises near examination
Primary 3 & 4 Booster English
These are important stages and a student's performance in Upper Primary is usually dependent on the foundation that has been built up in these formative years. Students are exposed to a wider range of vocabulary and a variety of sentence structures. They are encouraged to use better vocabulary and to experiment with language usage. Students can expect:
Topical vocabulary exercises and grammar exercises
Newspaper articles in the form of close and comprehension passages
Classes that specialise in the intricacies of composition writing
Skills in tackling common errors made by students
Bi-Monthly tests
Targeted revision exercise near examination
Primary 5 & 6 Score English
We recognise that the PSLE is a major milestone for students.
Learning about the nuances and idiosyncrasies of language
Enhancing their language skills through current affairs
Practical revision with exam format papers
Oral and Listening Comprehension simulations
Exam Tips for exam preparation and time management
Bi-Monthly tests
Targeted revision exercise near examination
English Creative Writing
# (1) Continuous Writing Compositions
Covers themes which will be tested in school examinations
Provides descriptive phrases that help to improve language and content
Teaches narrative writing techniques
Example: How to write an interesting introduction
# (2) Situational Writing
Example: Email (informal/formal), letter (informal/formal) and report writing
# (3) Model Compositions
Teaches students how to fully develop the theme
Exposes students to many good words/phrases and descriptions which they can use in future compositions
Teaches writing techniques and how these can be used
# (4) Writing Skills
Teaches a specific writing techniques per worksheet
Guide students on how to use these writing techniques through a demonstration and a short writing assignment
We provide top-notch tuition services to students of all ages and levels. We have a team of dedicated and experienced tutors who will help your child achieve academic success. Contact us today to schedule a free consultation!
Primary Chinese
At every 6th lesson, there is a reinforcement component where the student re-caps and strengthens upon what was taught.
Modules all include:
Infusing the Chinese culture in learning the nuances and idiosyncrasies of the language.
Strengthening & reinforcement lessons on concepts, vocabulary and language learnt.
Progressive & ordered methodologies to progress from strength to strength and retaining what was taught.
Creative writing and using higher order skills.
Oral and Listening Comprehension skills.
Practical revision exam-format papers with error minimising techniques.
Sparklekidz is the best tuition centre in Singapore that offers a wide range of affordable and quality programmes for students from K2 to Secondary level.
Primary 1 & 2 Jump Start Math
We understand that the early years are important in a child's development. Through the fun-filled lessons, learners will develop a love and passion for Mathematics.
Developing an interest in Maths as learners discover the usefulness of Mathematics beyond the classroom walls
Introduction to Creative Thinking Skills – the foundation of Heuristics – as we prepare our learner for the demands of Singapore's education system
Topical test
Targeted revision exercises near examination
Primary 3 Math
Primary 3 is a crucial year for your children as they undergo the streaming process at the end of the year. Our Primary 3 programme will help our learners consolidate their knowledge as we prepare them for an important milestone in their primary school life. At Primary 3, our learners would be introduced to heuristics – an important method of mathematical inquiry. Pure 'drilling' is passé.
Consolidation of key concepts from the Primary 1 & 2 syllabus as we prepare our learners for the streaming examination at the end of the year
Honing our learners' numeracy, reasoning, thinking and problem-solving skills through the learning and application of mathematics
Introducing the skills involved in solving problem sums to our learners
Topical test
Targeted revision exercises near examination
Primary 4 Race Ahead Math
In Primary 4, we provides our learners with structured practice which helps to ease them into challenging questions.
Building the foundation for the 'critical' years – Primary 5 and 6
Progressive learning
Greater exposure to heuristics as our learners acquire the mastery to solve mind-bending questions
Topical test
Targeted revision exercises near examination
Primary 5 Accelerate Math
Learners build on their foundation to excel and accelerate their learning pace.
Higher order thinking
Exposure to different types of problem sums
Topical test
Targeted revision exercises near examination
Primary 6 Score Math
Learners prepare for the PSLE. Lessons are precise and very focused.
Creative approaches to concepts and a wide variety of ways to arrive at the correct answers for different questions
Exposure to different types of problem sums
Different ways of arriving at answers
Ample practice to help our learners prepare for the PSLE
Topical test
Targeted revision exercises near examination
P3 Immersion Science
Fun level-based revision exercises to internalise concepts
Introduction of scientific concepts in ways that the young can relate to
Cultivate a healthy love and curiosity in science
Topical test
Targeted revision exercises near examination
P4 Exploration Science
Utilises fun and interesting learning techniques with the introduction of more pedagogic approaches.
Investigation techniques
Creative approaches to concepts and variety of ways arriving at answers for questions
Exposure to applying key words in recognition of a topic matter in correct context
Topical test
Targeted revision exercises near examination
P5 Interactive &Investigative Science
Learners build on their foundation to excel and accelerate in their learning pace.
Higher-order thinking
Learning beyond the textbook
Exposure to application of scientific concepts in our modern environment
Cross-disciplinary learning and application
Revising through our topical notes
Topical test
Targeted revision exercises near examination
P6 PSLE Score Science
Students prepare for the PSLE. Lessons are precise and very focused.
Tailored lessons to fit student requirements
Creative approaches to concepts through a wide variety
Analysis of questions and guidance of students in formulating concise and precise answers
Additional "booster" lessons
Topical test
Targeted revision exercises near examination
If you like to read more click here. Contact us for Tuition