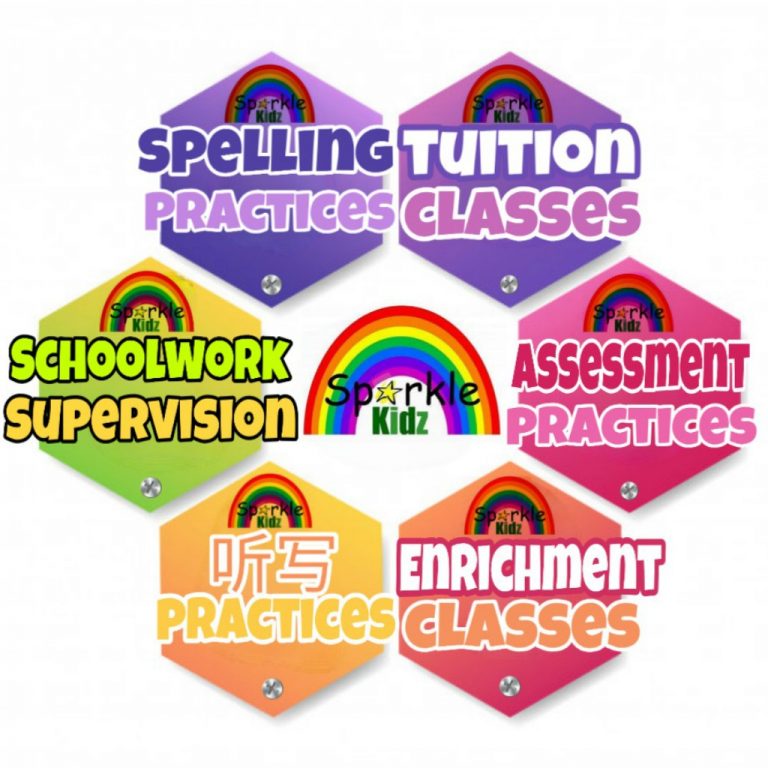 Our Student Care Centre provides after school care engaging and meaningful programs to enrich the lives of students. Sparklekidz empowered our Primary School students to explore their interests and take on different challenges.


About Us - Who are we.
Sparklekidz is premium Student Care who provides after school program and supervision to school going children aged 7 years (Primary 1) to 14 years (Secondary 2). We are committed to the holistic development of children. We provide quality student care program with a conducive environment that allows their physical, intellectual and emotional well being as they learn in a social setting at our student care centre in Singapore.
Our Services - What we do.
Our centre provides after school care engaging and meaningful programs to enrich the lives of students. Sparklekidz empowered our Primary schools students to explore their interests and take on different challengers. Sparklekidz is registered with Ministry of Social and family development. Should you need student care fee assistance you can approach us. We are Community Based Student Care Centres.
Sparklekidz comprehensive student care programme is designed to ensure that your children get the best possible start in life. We provide care and supervision of guide students' work and well being. From daily care facilities, food menu and medical services all provided for your child's need by our dedicated team members who know what it takes not just be a baby anymore!
Sparklekidz couples with a Strong Track of over 10 years of experience running quality student centres in Singapore and Sparklekidz has been the preferred student care service. We operate after school hours and full day during school holidays. The kids are so excited coming to SCC, they can't wait for their school holiday learning experience and learning experience. We get to explore and learn the same time.
Have you ever felt like your busy with work and raising children, but can't find the time to take care of everything else? Well we understand that feeling. That is why Sparklekidz support working parents in their school going children day to day lives so they don't have to worry about how or if it will get done!
Provide homely and conducive after-school care environment for students
Complement MOE in providing educational and developmental support to the students
Reach out to students from less privileged backgrounds and their families to provide holistic and family-centric assistance
.
Besides providing after-school care for our students, we run various programmes to meet our students' broad range of needs (social, emotional, recreational, physical, intellectual and creative) and provide learning assistance for those who require additional support. We also draw on the expertise and experience of the industry players to develop holistic programmes for students from less privileged backgrounds.
Sparklekidz' holistic weekly programmes incorporate value-based learning and focus on virtues which are essential to our students' character building. The programmes align closely with the core values of the respective schools. Through these experiential and value-based programmes, students can gain skills and develop knowledge through seven main areas: core values and virtues, literacy, numeracy, aesthetics, S.T.E.M., physical and experiential learning.
Inspiring Minds Touching Hearts
Sparklekidz is a premium provider of After-School / Student Care,  Tuition & Enrichment, Moral Education, Music & Arts Classes and School Holiday Programmes.
We adopt a holistic approach in nurturing a child's growth and development, and we believe good learning is not just attending tuition or enrichment classes, it is also enabling and encouraging children to explore and find things that interests them. Once they become interested in something, learning automatically become easier and faster. The four key areas of development we focus on are: Academic, Character Building, Social & Emotional and Talent Discovery.
Kalimba Music
A instrument for many, learning to play the Kalimba requires a lot of dedication and commitment. With this in mind, Sparklekidz has structured its lessons in a standardised way that makes music not only easier to learn, but more enjoyable as well.
Learning Journey
Beyond achieving good grades, we help kids enjoy the learning process and develop the curiosity to learn more about the world they live in. Find out how we shape an enriching learning journey at Sparklekidz.
Group Tuition
In addition to supervising and guiding students on their school work, we also focus on improving their command of the mastery various subjects language. We achieve this by giving extra Tuition & Enrichment sessions as part of our After-School / Student Care programme.
Robotics Coding
Specially designed for curious young minds who are new to coding / programming: This course introduces a must-have skill to equip your children with, for their futures. We believe in engaging children to be thinkers and creators through hands-on and project-based learning, for a purpose.